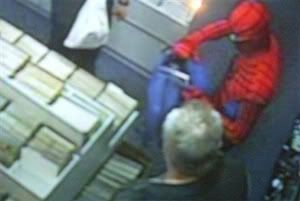 The story's popping up all over, but this report is from
today's Register
:
Spider-Man and Jedi Knights bust X-Men comic thief

'A real team effort'
By Lester Haines
Posted in Bootnotes, 4th May 2010 08:14 GMT

The combined forces of Spider-Man and the Jedi Knights took time off from battling Green Goblin and The Empire on Saturday to bust an Adelaide comic store thief.

The unnamed perp attempted to lift a copy of X-Men Omnibus, worth A$160 (£97), from the Adelaide Comics Centre during an event to mark International Free Comic day.

This turned out to be a bad move, since owner Michael Baulderstone had donned a Spider-Man costume for the occasion, which evidently enhanced his crimebusting instincts. Amid fans posing as Catwoman, Kick-Ass and Wolverine, he eyeballed a man "suspiciously dressed in regular clothing".

He told the Times: "My Spider-sense was tingling. I didn't want to scare him off so I followed him around the store and eventually said, 'Are you right there, mate?'"

He continued: "I'm 169cm tall and only 57kg, so I'm a tiny bloke but I just grabbed his bag and looked in it and there was the book."

The CCTV image above captures the moment of the bust, at which point Spider-Man called in back-up. He explained: "I had 50 people in the store so I just shouted for someone to guard the front door and it just happened that the Jedi Knights were there and they had their lightsabers out so they held the door until the police arrived.

"My colleague, who was dressed as The Flash, kept running the shop and stayed calm. It really was a team effort."

Law enforcement operatives dressed as Adelaide police officers then attended the scene and took the man into custody. Cops later confirmed they were investigating the matter.
Stealing an X-Men omnibus, huh? I always knew those mutie-lovers couldn't be trusted.