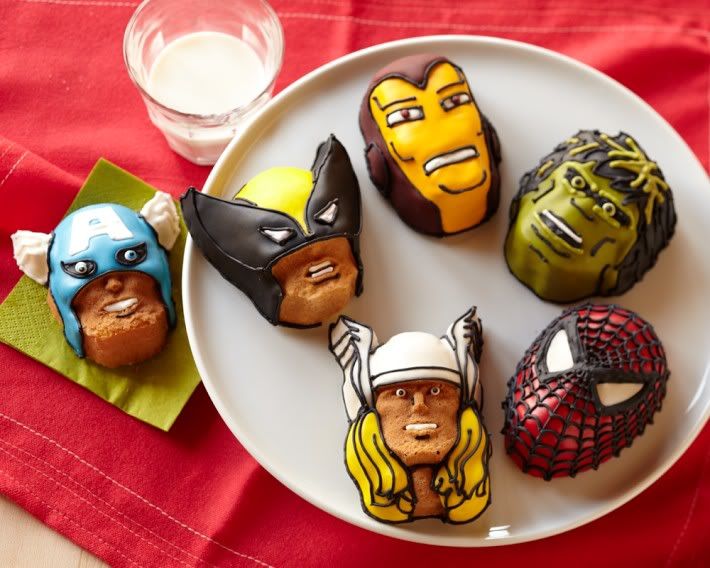 I find the flesh-like color of the unadorned cakes rather disturbing.
Posted by

Preterite
at 10:13 AM
0 comments
Links to this post
Yet another reason to cheer, "God Bless Canukistan!" The fine folks over at the National Post have created
an awesome graphic charting all of the zombie kills on the tv version of The Walking Dead
. Data points include weapons used, who did the killing, and zombie gender. It's way too big to reproduce in its entirety so head over to the National Point site and give them some pageviews.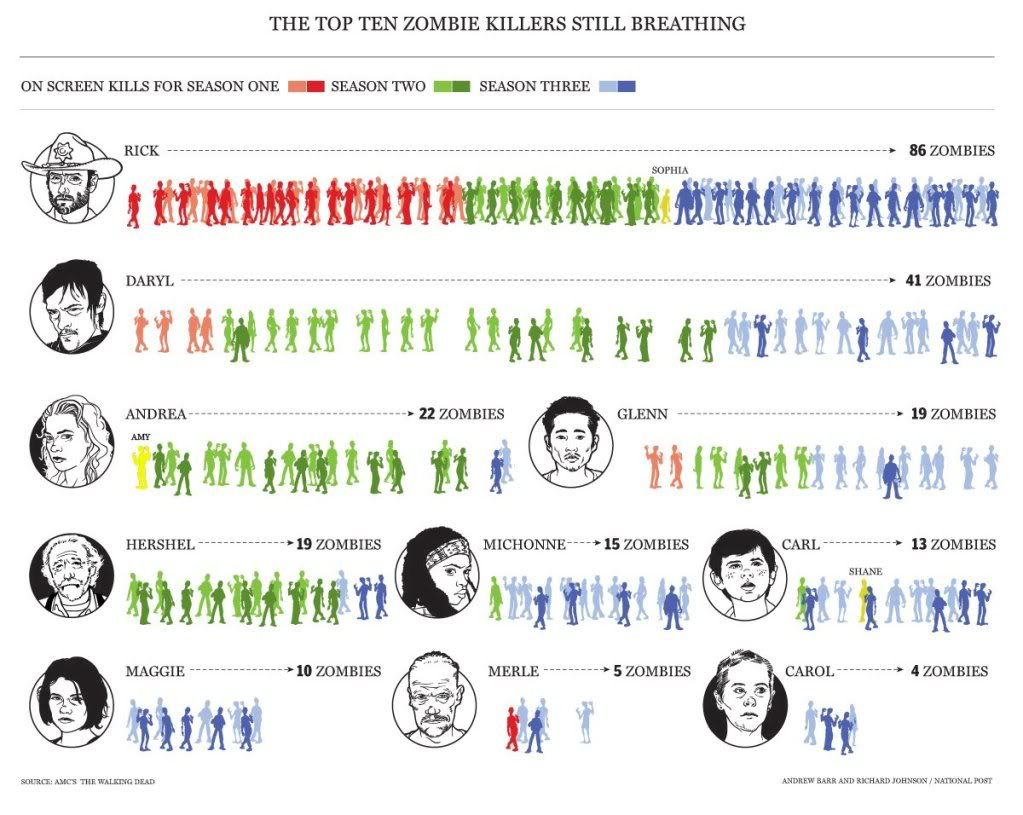 Posted by

Preterite
at 3:01 PM
0 comments
Links to this post
Because I want to buy the Batmobile. From
the LA Times
:
Original Batmobile to go up for auction



By W.J. Hennigan
November 29, 2012, 6:00 a.m.

Holy hot rod, Batman!

The iconic Batmobile from the 1960s television show is going up for auction early next year.

The midnight-black and fluorescent-red-pinstriped car that Adam West's Batman used to battle villains in Gotham will be up for grabs Jan. 19 at Barrett-Jackson, the Scottsdale, Ariz., rare and classic auto auction house.

There is a reserve price for the car, but neither the auction house nor the car owner, famed car customizer George Barris, would confirm the lowest dollar amount they would accept. Plans for the sale were revealed at the L.A. Auto Show.

"Let's just say it's in the multimillions," said Craig Jackson, chief executive of Barrett-Jackson. "The car is true Americana. It's hard to put a dollar figure on something like that."

There's likely to be plenty of potential buyers. The one-of-a-kind 1955 Lincoln Futura concept car was originally created by a design team at Ford Motor Co.'s Lincoln styling department. The 19-foot-long, two-seat, bubble-topped grand touring car prototype was entirely hand-built in 1954 by Ghia Body Works in Turin, Italy, and unveiled in its original pearlescent "frost-blue" white paint finish in 1955 at the Chicago Auto Show.

In late 1965, 20th Century Fox Television and William Dozier's Greenway Productions tapped Barris to come up with a car to foil Batman's enemies. Barris said he transformed the Lincoln in just 15 days for $15,000. The heavily modified car, known around the world, was built at Barris' auto shop in North Hollywood.

Barris, who also made the Munster Koach and "Beverly Hillbillies" jalopy from the 1960s TV shows, turned out a monster.

The car features bulletproof plexiglass bubble windshields and the Bat Ray (dual 450-watt laser beams that blasted obstacles to bits). It also has a Bat-O-Meter, which identified the location of the bad guys, as well as oil squirters (fashioned from lawn sprinkler heads) to foil evildoers.

"I saw the script and it said, 'Bang,' 'Pow,' 'Boom,'" Barris, now 87, said. "That's exactly what I wanted the car to do. I wanted it to be as big a character as the actors."

Since the television show ended in 1968, the Batmobile has been on display at Barris Kustom Industries on Riverside Drive in a gallery. Selling the car is bittersweet for Barris. It's been his trademark for years. His cellphone's ring tone is a familiar theme song: "Na na na na na … Batman."

"It's difficult to part with," Barris said. "Whoever the lucky buyer is, I hope they have as much fun with it as I did."
The reporter made a "Holy Something" joke. How hilarious and original.
Adam West gave me a fist-bump once. I think that shows how deserving I am to be the owner of the original Batmobile Donations can be sent care of this blog.
Posted by

Preterite
at 8:56 AM
0 comments
Links to this post