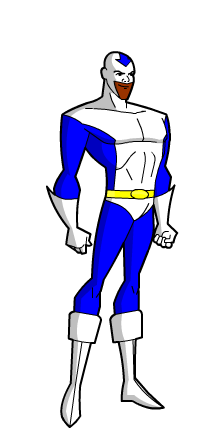 Fábrica de Heróis
is a nifty Flash-based program that lets you design characters in the style of Bruce Timm's
DC Animated Universe
. I've been playing around with this program for a while now, and it's a lot of fun. As the program was created by Brazilians, the whole thing's in Portugese. It doesn't take long to get the hang of it, though, and there's always Google's
on-line translator
if you get really stuck.
The creators have now posted a link to download
an off-line version of the program
, so you can create new superfolk wherever you and your laptop go. Megaupload rubs me the wrong way for some reason, so I've uploaded a copy of the files to
Rapidshare
for good measure.
Still no sign of the teen heroes templates, however. They'd be nice to have if I get around to running an old school
Villains and Vigilantes
game for the kids.