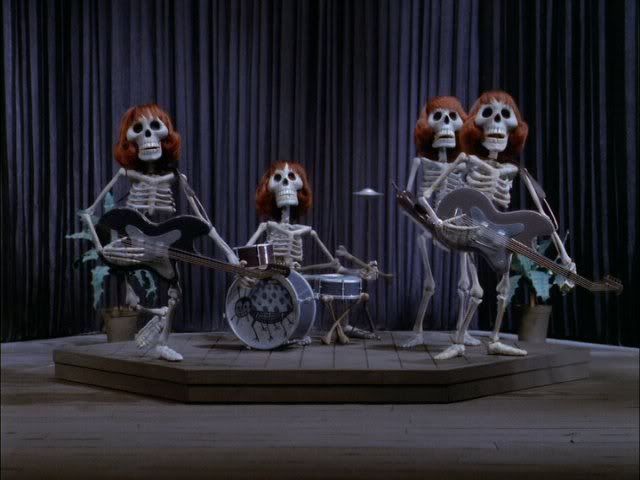 It was a gorgeous night tonight, perfect weather for trick-or-treating. Nothing sucks more than having to ruin the flow of your meticulously-prepared costume with an overcoat.
I biked around for a while through Oak Park. Some streets were closed off for block parties. On other streets were tables full of refreshments staffed by friendly neighbors. And hordes of costumed children were everywhere; running, laughing, screaming, but almost always under the watchful eyes of adults (who were themselves usually costumed). I love this town. Wish I could afford to live here.
On the way home I stopped off at
Horrorbles
. It seemed to be the right night for it. I picked up
Doctor Mordrid
on DVD and a copy of a magazine called
Cinema Retro
. The lady working the counter was very nice and helpful. She let me know that the legendary
Tura Satana
would be there later that night to sign posters and other souvenirs. Pretty cool, but not really my thing.
Still, I wanted to do something tonight. The beautiful weather, the Halloween vibe - it was calling to me. But I don't have a goddamned thing to do. Either I have lame friends or I'm lame or - look, there's very clearly lameness involved here.
So I'm making my own fun. I've got the final two episodes of
Dead Set
downloaded and ready to watch on my magic DVD player, a sixer of what the Brits call "alcohopops" and we call "sissy girl drinks", and some tunes. I can't share the booze and you can grab
Dead Set
the same place I did, but I can spread the musical lovin' around.
Altered Images - Dead Pop Stars
Bauhaus - Stigmata Martyr
Book of Love - Tubular Bells
Depeche Mode - Waiting for the Night [remix]
Echo & the Bunnymen - The Killing Moon
Feisty Stevens - The Zombies Are Inside Out
Fred Schneider - Monster
Groovie Ghoulies - Haunted Mansion
Martinibomb & the Coconut Monkeyrocket - MunsterBeat!
My Life With the Thrill Kill Kult - ...And This Is What the Devil Does!
Pilchard - Jack the Monkey
St. John, Paul - Flying Saucers have Landed
The Cramps - Surfin' Dead
The Cure - Three Imaginary Boys
The Dream Syndicate - Halloween
The Fleshtones - I Was a Teenage Zombie
The Jazz Butcher - Zombie Love
The Rezillos - Flying Saucer Attack
The Specials - Ghost Town [remix]
Zombina & the Skeletones - Can't Break a Dead Girl's Heart
It's heavy on New Wave because that's how CountG rolls. I've left out some of the more obvious stuff (like that Ministry song) because you probably already have that stuff, and I've made no attempt to organize a structured playlist 'cuz I couldn't be bothered.
The Paul St. John song is a trippy bit of early '70s glam pulled from the compilation,
Glitter From the Litter Bin.
"Munsterbeat!" was a gift to the world from
Oddio Overplay
a few years back.
Fiesty Stevens is actually
Kevan Gilbert
, who's created a fantastic mash-up of Feist's "Inside Out" and Sufjan Stevens' "They Are Night Zombies!!"
Pilchard's "Jack the Monkey" is another mash-up and probably my favorite track on the list. It comes from last year's
Bride of Monster Mash-Up
(the site seems to be down currently), and the same team have also done
Son of Monster Mash-Up
and
Mashing Pumpkins
. While there's other good songs on these compilations, "Jack the Monkey" kicks all their asses and takes their trick-or-treat bags. Hey, it's even on that YouTube thingy the kids are all talkin' about:
To download CountG's Party Mix, simply click on the link below and blah blah blah.
How come there's no wimmin at this party?