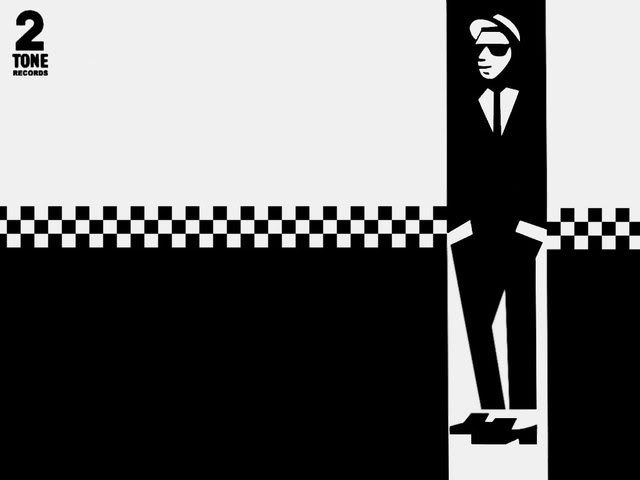 We live in an age where many of carry around entire music libraries wherever we go, where we can listen to just about any song we like with a few clicks of a scroll wheel. Still, nothing beats hearing a favorite song come up unexpectedly on the radio.
Tonight, I caught the Specials' "Monkey Man" while running through the presets on the car stereo. It was on a local public broadcasting station that typically plays bluegrass or gospel this time of night, and I had expected to scan past it pretty quickly. Instead, I cranked the volume up full blast and bounced along all the way home.
Great stuff, though the DJ got a little of his facts about the band... well, not wrong, really, but incomplete. It got me thinking about a couple of documentaries BBC Radio broadcast last year in honor of the 2 Tone record label's 30th anniversary.
This Are 2 Tone
follows comedian and DJ Phil Jupitus on his pilgrmage to the cities, studios, and dance halls that gave birth the 2 Tone sound.
Too Much, Too Young
is a "too"-part program that goes into further detail on the history of the 2 Tone movement and its cultural impact. Both shows feature loads of interviews with members of the Specials, the English Beat, and Madness, as well as prominent fans and those who worked behind the scenes to bring the 2 Tone sound to the world.
And because I have more crap lying around here than I know what to do with it, I'm also offering
2 Tone Britain
, a 2004 Channel 4 documentary covering much the same ground with the added benefit of visuals to go with the great music.
Click on the links below to be taken to the Rapidshare download pages. You will need WinRar or a similar program that can rejoin and unzip rar files.
The image at the top of this post has been sitting on my hard drive for, like, forever, but it originally came from
http://tipa-ska.narod.ru
. There's more wallpapers and lots of other stuff there. It seems pretty safe for a Russian site!