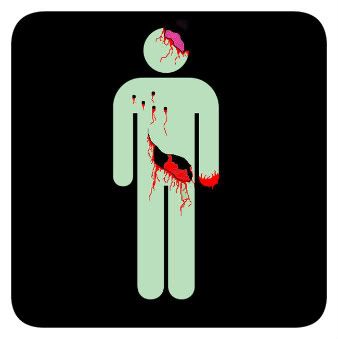 Folks in Norfolk, Virginia have organized a pretty cool variant on your basic zombie walk. From Virginia's
Daily Press
:
Run for your lives! Play a game of zombie tag at Survive Norfolk on Friday



The zombie-fied game of tag boasts a guest list of more than 7,000 on Facebook. Only 1,500 will be able to play.

By Amber Nettles Mobile and Social Media Manager, Daily Press
2:55 p.m. CDT, October 20, 2010

Dear City of Norfolk,

We really hope you can withstand a crushing horde of the undead.

Survive Norfolk, a zombie-fied game of tag, descends on Ghent Friday night. If all goes well, it could mark the beginning of a new phase of community-organized events. Whitney Metzger created the event (via Facebook) a few weeks ago and invited her friends. Donations would benefit various charities, including Hope House Foundation, D'Art Center, and the Hermitage Museum and Gardens. They invited their friends, and THEY invited their friends, and so on ... A few weeks later, more than 7,000 people RSVP'd "Yes" and she's dealing with a city-imposed fee for shutting down streets, hiring off-duty police, insurance, etc.

Metzger has already raised the money, taking donations through PayPal. AltDaily.com got involved, creating a "Save Survive Norfolk" Facebook page, writing about the event, publicizing two different fundraising events and having Mertzger write her own take on the event. The Virginian-Pilot, Wavy-TV 10 and WVEC have covered the inception of the event. YourMusicShow.Net also has an interview with Metzger on its podcast.

Survive Norfolk is a two-hand game of tag, featuring runners and zombies. Runners receive an armband at the starting point of the game, and are given a five minute head start before the zombies are unleashed. If a runner is tagged by a zombie, he/she becomes a zombie. Runners have two and a half hours to hit four checkpoints (at which agents will give them stamps) and reach the end location. "Bonus areas" are also included (in which the runners enter at their own risk to find Monitors will patrol the area to help and give direction. Only 1500 people can play (it's first-com, first-served) and many armbands have already been reserved. The winners will include the First place finisher and the zombie with the most kills. Players have to sign a safety waiver and must be over the age of 18.
Meanwhile,
a New Zealand charity is defending it's upcoming zombie walk fundraiser
- for victims of brain injuries. Oops.