From the Myrtle Beach, SC
Daily Sun
:
Man used meat cleaver to fend off would-be robber in gorilla suit



by Tonya Root
Thursday, Jul. 30, 2009

An employee of the Conway location of Jimmy's Japanese Hibachi told police he used a meat cleaver to fight off a would-be robber who wore a gorilla suit, according to a police report.

The 21-year-old Conway man told police at 11:24 p.m. Monday he was cleaning the restaurant and was punched in the head while taking trash to a Dumpster behind the business at 2635 U.S. 701 N., police said.

The man said he wrestled with his attacker, who wore a gorilla suit, and ran back inside the building, but the attacker followed him, according to the report. The man said the attacker ran to the cash register and he picked up a meat cleaver and hit the person in the right arm.

The man said the attacker then ran out of the business with the cleaver stuck in the suit, according to the report. Police are investigating the incident. No money was taken during the robbery attempt.

I'm all for copying classic comic supervillians for your criminal motif, but this guy is just doing it wrong. He was aping this:
When he should have been rocking this: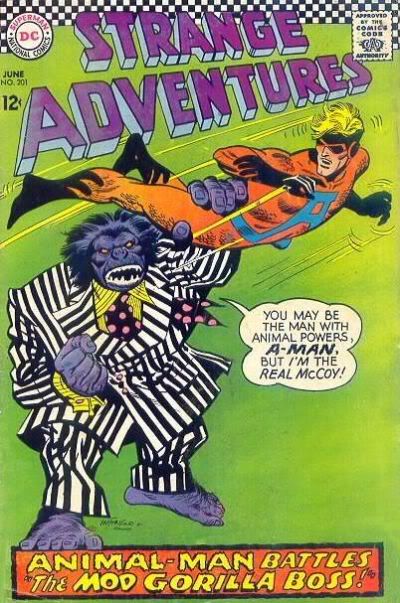 HELL YEAH!

Although, as he was robbing a Japanese restaurant, a strong argument could have been made for a simian samurai.
Keep working at it, buddy! A lot of would-be heroes need good villains to oppose!