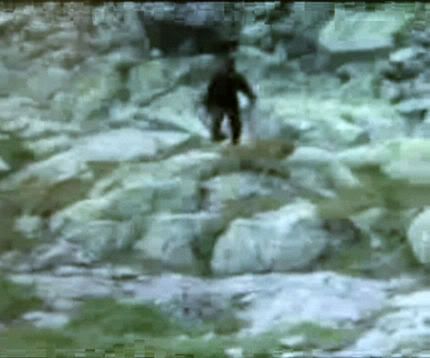 Bigfoots? Bigfeet? Anyways, they're lonely. From
the Austrian Times
:
Yeti stalked me says teen girl



31. 08. 09. - 17:00

A terrified teenage student has told how a Yeti spied on her in her bikini as she took a dip in a stream on a camping trip.

Yeti-hunters have been flocking to Poland's remote Tatra mountains after reported sightings and films showing a large, hairy ape-like creature emerged last week.

Now new footage has surfaced apparently showing one of the beasts stalking Justyna Folger, 19, during a camping trip with boyfriend Tadeusz Serafinowski in the Tatra mountains.

While Justyna paddles for her boyfriend's camera, a shadowy hulk can be seen creeping through the undergrowth on the other side of the river bank.

"I wandered into the river for a dip when I realised that something was on the opposite shore," Justyna told Poland's Super Express newspaper.

"At first I thought it was a bear but it appeared to be stooping and then it raised itself on to two legs and ran off. I couldn't believe it," she added.

Now mountain rangers are on alert and hunting for the mysterious beast.

National Park Guards Commander Edward Wlazlo said: "We are investigating the matter. If there is something out there we will find it."

Yeti experts have been flocking to the mountains since Piotr Kowalski, 27, from Warsaw, filmed a Yeti-like creature emerging from a Tatra mountain path.

"I saw this huge ape-like form hiding behind the rocks. When I saw it it was like being struck by a thunderbolt," he said.

His film has been handed over for examination to the Nautilus Foundation, which deals with unexplained phenomena.

"The film clearly shows 'something' that moves on two legs and is bigger than a normal man," says Foundation President Robert Bernatowicz.

"But because the camera shakes so much it is difficult to say what it is exactly. We need to go to the site and see what traces, if any, were left."
The photo above accompanied the Austrian Times article, and there's a couple more on their website. All are stills from the earlier Polish Yeti video mentioned in the second half of the story. Two Yeti videos from the same area in less than a week must strain credulity for even the most die-hard believer. Somebody's having some fun, even if the real Bigfooties are lonely.
Both videos are available on YouTube, of course. One features a good long look at what might be a hairy wild man, the other a good long look at a cute girl in a bikini. Take your pick.